Dr. Laura H. Downey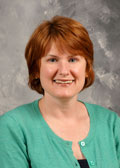 Dr. Laura H. Downey is an Associate Extension Professor of Program Planning and Evaluation in the School of Human Sciences at Mississippi State University.
Dr.PH, Health Behavior, University of Kentucky
M.S., Rural Sociology, Auburn University
B.S., Anthropology, Auburn University
Dr. Downey specializes in program development and evaluation with specialization in the development and evaluation of health education programs. Since joining Mississippi State University (MSU) in 2012, her primary responsibilities have been to support MSU Extension's program development and evaluation, teach graduate courses and guide graduate students, engage in research and scholarly endeavors, and participate in outreach.
In her current position the majority of Dr. Downey's time is spent working with MSU Extension administrators, Extension agents (educators), program planning teams, and other professional staff in the development, implementation, and evaluation of non-formal teaching in community settings. She communicates with over 80 faculty members, administrators, and Extension agents at any given time; maintains meticulous records on the progress of various internally and externally-funded projects; and assists with setting the vision of future organizational efforts. Dr. Downey has served as the evaluator of the Mississippi Youth Preparedness Initiative (MyPI) since 2015. She developed the MyPI evaluation protocol to assess changes in participant's positive choices and communication, connections and contributions, awareness of community, and understanding of community engagement.
Dr. Downey has consistently secured research dollars from federal, state, and private organizations to support individual, collaborative, and student research and/or evaluation projects. She has received funding from the U.S. Department of Agriculture (USDA), Mississippi State Department of Public Health, the Charles F. Kettering Foundation, and the W.K. Kellogg Foundation. On many of these grant-funded projects, she has been responsible for fiscal management, personnel, program development and evaluation, and reporting to public and private stakeholders. These programs, applied research, and evaluation projects have resulted in refereed journal publications, lay publications, conference presentations, and trainings. Many of these projects have focused on the well-being of youth and their families. She is currently the Principal Investigator of an USDA funded project that provides culturally relevant and comprehensive parenting education to pregnant/parenting teens in Neshoba and Newton counties, Mississippi. This project implements a hybrid of parenting, health, and responsible living education to promote positive youth development and parental role attainment as pregnant/parenting adolescents transition into parenthood and support the positive growth and development of their children. She is also an evaluator on a USDA-funded project that explores the benefits of service-learning in college agricultural courses.
Dr. Downey is actively involved in academics at MSU in the School of Human Sciences and across campus. She teaches graduate courses in research methods and program planning. She also serves as major professor and on committees for more than 25 master's and PhD students. Currently, Dr. Downey is overseeing the School's self-study as part of reaccreditation from the American Association of Family and Consumer Sciences. Recently, she was invited to assist MSU's Center for the Advancement of Service-Learning Excellence with the review and revision of student, faculty, and community-member surveys that are used to evaluate the university's service-learning courses. Since joining MSU, Dr. Downey has directed a multi-year College of Agriculture and Life Sciences alumni survey and served as an advisor to the MSU Extension Rural Medical Scholars program.
Central to Dr. Downey's work is a collaborative approach that relies on the knowledge and expertise of a wide range of individuals. She uses participatory processes that engage university students and faculty, community members, informal and formal leaders, and other community-based professionals as co-learners. Such approaches allow a group to recognize the unique strengths that each partner brings to the process and the respective project. She is most satisfied when she works as part of a team on an important university or community issue.