Tennessee State University Cooperative Extension personnel and public health officials commit to innovative national award-winning youth preparedness partnership, MyPI National
Submitted by
cra20@msstate.edu
on 10/12/2017 - 9:58am.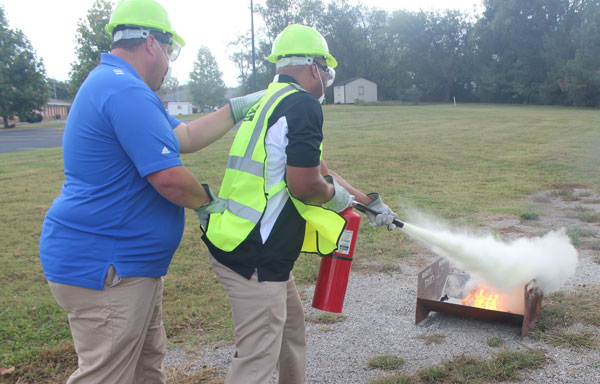 MyPI TN instructors practice fire suppression.
This week at the Rutherford County Extension Office in Murfreesboro, TN, the initial delegation of instructors within the Tennessee Youth Preparedness Initiative, MyPI Tennessee, completed a comprehensive certification and training workshop led by the MyPI National Coordination Team, and became the sixth state to train instructors under the national project umbrella.  According to Rita Fleming, an Assistant Professor at Tennessee State University and MyPI Tennessee Program Coordinator, "What attracted me to this great program was the focus on training youth, specifically teens, to be better prepared for emergencies and disasters.  The three component model is solidified with service project in which all of our teens are engaged in community service and truly making a positive impact on their own preparedness levels and that of their families and their communities.  The opportunities for engagement, involvement, and empowerment by our teens are profound.  Added Fleming, "MyPI will have a significant impact on our teens and play a key role in their development.  They will learn and practice life lessons that will follow them throughout adulthood." 
Over the next 11 months, MyPI Tennessee will be offering an innovative and engaging youth preparedness program to approximately 125 teens and reaching approximately 875 families across the state.  This program, based on a national award winning model delivered in Mississippi through the Mississippi State University Extension Service and Mississippi Citizen Corps, enhances individual, family, and community preparedness for disasters while at the same time, strengthens youth leadership, communication skills, teamwork, decision making, self-esteem, civic responsibility, and empowerment, along with family communication and cohesion. "We are attempting to set the new standard for how we engage our teens in sustained preparedness endeavors across the country.  We have seen fantastic success for several years now in Mississippi and have now begun to replicate our model throughout the US under the MyPI National umbrella.  As our MyPI National team works with MyPI Tennessee instructors over the next 11 months, we will continue the process of fostering relationships and networks that will hopefully ensure the success of MyPI Tennessee for years to come, which is our overarching goal for this great state and its citizens and communities" said Dr. C. Ryan Akers, MyPI National and MyPI Mississippi Project Director.  Mississippi Citizen Corps State Program Manager and Lead Community Emergency Response Team (CERT) Instructor for MyPI National, Dave Nichols, added, "I have truly enjoyed this group of future MyPI instructors.  It is pretty incredible being in the Volunteer State and witnessing and working with some great volunteers here in Tennessee.  I look forward to seeing the progress they make with helping to prepare their youth, their youth's families, and their communities in times of disaster." 
MyPI Tennessee is a component of the National Youth Preparedness Initiative, MyPI National, a partnership of eight pilot states delivering the MyPI curriculum to teenagers across Nebraska, Hawaii, New Jersey, Washington, Illinois, Tennessee, Virginia, and Mississippi.  MyPI National recently was awarded the Federal Emergency Management Agency's (FEMA) Individual and Community Preparedness national award for "Outstanding Achievement in Youth Preparedness".  Capitalizing on success and momentum, MyPI National also recently received federal funding for a Phase 2 expansion of the program which enables the inclusion of Alabama, Georgia, North Carolina, Arkansas, South Dakota, Montana, Nevada, Oregon, Arizona, and the first U.S. Territory to be represented, Guam.  Regarding Tennessee, Akers stated, "We had a passionate group this week as we installed the initial cohort of MyPI Tennessee instructors.  It makes our job so much easier and more enjoyable when you have a cohesive unit that already has a vision for delivering MyPI.  Tennessee teens, their families, and their communities are in for a treat on multiple levels.  It was a pleasure for the MyPI National team to be here this week and to work hand in hand with the instructors during their comprehensive training.  We are excited to partner with Tennessee State University Cooperative Extension and to work with professionals there and also our instructors from the University of Tennessee Extension and public health personnel in Nashville.  I anticipate fantastic growth as MyPI Tennessee progresses and flourishes across the state.  It is a fantastic, multi-faceted program that offers rich learning and leadership opportunities for teens and enhanced preparedness levels for families and communities across this great state.  There is a definitive focus and energy necessary as we move into the next phase of MyPI Tennessee, where the real work is done and the real impact is seen. I look forward to seeing these new instructors respond to the challenge and become the catalyst for positive impact.  It is clear from this week, that the instructors have a strong passion for disaster education and preparedness, the development of their youth and safety of their families, and the livelihood of these communities, which is wonderful to see.  We expect a profoundly positive impact for all involved here and will continue to work with the instructors and Rita, our MyPI Tennessee Program Coordinator, to ensure its success."     
For students in the eight states, the MyPI model offers a flexible 5 to 10 week, three component program.  In Component A, teenagers will complete the U.S. Department of Homeland Security/Federal Emergency Management Agency-certified Teen CERT training and corresponding modules focusing on Disaster Preparedness, Fire Safety and Utility Control, Disaster Medical Operations, Light Search and Rescue, CERT Organization, Disaster Psychology, and Terrorism and CERT.  In Component B, the Add-On Catalog features certification in CPR and AED usage, along with a technology track comprised of awareness programs focusing on HAM Radio, NOAA Weather Radio, Smoke Alarm Maintenance, and Smart Phone App and Social Media in Emergency Preparedness.  The Add-On Catalog also includes a Disaster simulation, and a Career Track that focuses on public safety, fire service, and emergency management careers.  The final element of the program, Component C, includes a comprehensive family and community service project entitled PREP + 6 in which each participant helps develop emergency supply kits and emergency communication plans for their family AND 6 additional families or households. This component allows for significant enhancement in individual, family, and community preparedness and resilience.  To graduate from the program, students must complete all components.  James Tabor, Regional Hospital Coordinator for the Nashville/Davidson County Region is among the newly certified MyPI New Tennessee instructors and will be delivering the program locally.  Tabor's message to potential MyPI teens and their parents is simple, "We each have a responsibility for preparedness in our families and in our communities.  This program provides the tools, the resources, the education, and finally, the opportunity to do that job right.  This is a great chance to reboot youth preparedness in this state.  Similarly, this course provides opportunities for adults to mentor and teach young people about the importance of emergency preparedness.  By teaching, as a volunteer instructor, adults become more informed and more engaged in community preparedness efforts.  I strongly encourage interested students and potential instructors to take a serious look at this national award winning program."  On the importance of MyPI Tennessee, Anthony Tuggle, County Extension Director with the Rutherford County Extension Service and a new MyPI Tennessee instructor in Rutherford County, stated, "Young people may be overlooked as a viable resource for their community prior to, during, and after emergencies and disasters.  MyPI Tennessee not only educates youth but empowers them to take action to prepare themselves, their families, and their communities.  Teens learn how to prepare for disasters and are trained in the very thorough CERT curriculum, which gives them a great response skill set that would help with rendering aid and preventing further injury.  And when you factor in the service project, the program aligns itself well with our mission as educators."  Dr. Thomas Broyles, TSU Extension Associate Professor and State Program Leader for 4-H/Youth Development, agreed with Fleming.  Added Broyles, "The mission of the Cooperative Extension Program at Tennessee State University is to educate Tennessee citizens about issues related to their needs.  MyPI is a great example of a program that educates our citizens about individual, family, and community preparedness for emergencies and disasters.  The purpose of MyPI is to educate our youth, specifically our teens, about disaster preparedness and to empower them to take ownership of their preparedness and that of their families.  In addition to the youth gaining their own new knowledge, MyPI's service component enables opportunities for our youth to positively impact the lives of those in their communities as well, with each student working with six additional households in building emergency supply kits and family communication plans.  There are tremendous leadership growth opportunities throughout the program, with a focus on teamwork, communication, empowerment, civic responsibility, among others."  
The partnering states in MyPI National are replicating the model created and delivered in Mississippi.  In 2014, the Mississippi Youth Preparedness Initiative was named FEMA's national award winner for Outstanding Youth Preparedness program. It also received an Honorable Mention recognition for "Preparing the Whole Community." In 2015, MyPI Mississippi was named one of the first entities to be named an official Affirmer of the new National Strategy for Youth Preparedness Education. As such, MyPI is an engaged and recognized component of a nationally supported, progressive approach to preparing youth for emergencies and disasters.  MyPI National is also recognized as an Affirmer of the national strategy.
For additional information regarding MyPI Tennessee, including the areas of the state that the program will be delivered in the initial deliveries, please visit the MyPI Tennessee website at http://mypitennessee.org or contact Rita Fleming, MyPI Tennessee at rfleming2@tnstate.edu or 615-963-2135.  For more information regarding MyPI National, please visit the MyPI National website at mypinational.extension.msstate.edu or contact Dr. Ryan Akers, MyPI National Project Coordinator at cra20@msstate.edu or 662.325.5914.  You may also reference both projects on social media platforms.  Facebook profiles can be found by searching My PI Tennessee and My PI National respectively, and Twitter handles can be found by searching @MyPI_TN and @MyPI_National.