Mayor Dave Nichols, II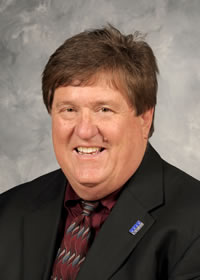 Mayor Dave Nichols is an Extension Program Assistant with the MSU School of Human Sciences.
Mr. Nichols also serves as the State Program Manager for Mississippi Citizen Corps of the Mississippi Office of Homeland Security.
David H. Nichols, II is a native of Seattle Washington. He moved to Mississippi in 1973.
Dave graduated from Columbia High School in 1979. He attended Millsaps College, Belhaven College and the University of Southern Mississippi.
Mr. Nichols was elected mayor of Monticello, MS in 1997, becoming the youngest mayor ever elected there.  He is a CERT Trainer and was one of the first Teen CERT trainers in the nation. Dave was also one of 12 people from around the country chosen to update the CERT curriculum in 2007. Dave is the Program Manager for all Citizen Corps-affiliated programs in Mississippi, including CERT, Fire Corps, Volunteers in Police Services, America on Watch, and Medical Reserve Corps.  Mr. Nichols is directly responsible for overseeing a highly reputable Citizen Corps program along with associated programs like the annual CERT conference and CERT Olympics.
Dave has also helped to have the Teen CERT curriculum become part of a High School course entitled an introduction to Public Safety and helped create the Mississippi Youth Preparedness Initiative and Ready in the Middle, along with Dr. Ryan Akers.
In 1992, Dave received the Book of Golden Deeds award from the Monticello Exchange Club. In 1993, he received the Civic Award from the Lawrence County Chamber of Commerce. In 1994, he was selected to the National Directory of Who's Who in Executives and Professionals.
In 1995, the Lawrence County Chamber of Commerce created the Dave Nichols Award of Excellence to be given out to people who demonstrate outstanding community and civic excellence. Dave was honored as one of Three Outstanding Young Mississippians by the Mississippi Jaycees in 1999.  Dave and his wife, Donna, were named Parents of the Year at Rod Paige Middle School in Monticello in 2006.
Dave is married to the former Donna Lynn Hamel of Bridgeport, PA, and they are the proud parents of twins, David Henry Nichols, III and Erin Lynn Nichols.